Public Notice
LOW WATER PRESSURE NOTICE - WEDNESDAY, DECEMBER 12, 2018.
You may notice your water pressure is lower than normal today. The reduced pressure is to accommodate the work on the upgrades at the Water Treatment Plant.
Please share with neighbours and friends who may not have in the internet. Thank you for your patience and understanding.
JOIN US FOR A TWINKLE TOUR - DECEMBER 11, 12, 13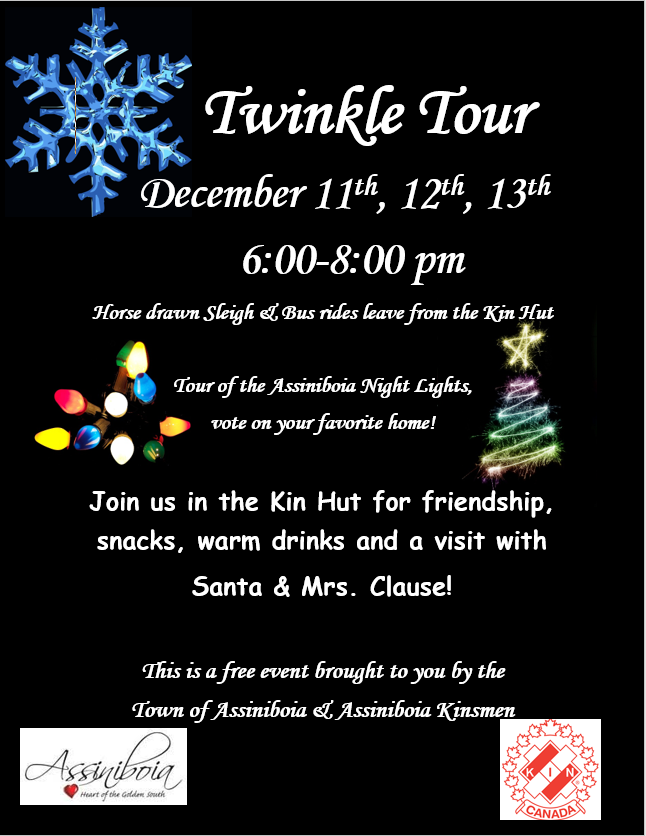 WANT TO KNOW WHAT IS HAPPENING AT THE RINK... VIEW THE RINK SCHEDULE

CONGRATULATIONS TO POTENTIA RENEWABLES ON THE WIND POWER FACILITY ANNOUNCEMENT, WHICH IS VERY EXCITING FOR ASSINIBOIA & AREA.
To learn more about Potentia Renewables visit them online at https://potentiarenewables.com/
LEARN ABOUT UPCOMING PROGRAMS IN THE FALL / WINTER RECREATION & PROGRAM GUIDE
Events
12.16.18 (1:30pm - 4:30pm)
12.17.18 (7:00pm - 8:30pm)
12.18.18 (7:30pm - 9:00pm)
12.26.18 (10:00am - 2:00pm)
[ View Events ]