Aquatic Centre &
Splash Park

Located at 130 Assiniboia Avenue beside the Regional Park Campground, Centennial Park and the Civic Centre Arena. This outdoor facility opens on June 1 and closes at the end of August.

Pool Phone: (306) 642-5620
Splash Park (Adjacent to Pool) Open daily


Staff:
Stephanie VanDeSype
Recreation & Community Wellness Manager 306-642-5007
Email: recreation@assiniboia.net


Admission Rates
Family - $20.00 (4 people max - 2 Adults only + $4.00 each additional person)
Adult - $8.00

Senior (age 65 +) $6.00
Student - $6.00
Child (6-12 years old) - $5.00

Under 6 years old - Free
For Season Passes, Monthly, and Weekly Rates - 2019 Pool Pass Form
POOL SCHEDULE for Public Swim, Lane Swim, School Swim, Pool Events, Fitness Classes


SWIMMING LESSONS
We've changed programs! For many years we have offered the Red Cross swimming lesson program. This year we are introducing a similar program created by the LifeSaving Society. There are many benefits that this new program will bring to our pool and to your swimmer!
So why did we change programs?
To be more cohesive with the lesson programs in surrounding communities, To offer more in-water training for your swimmer, To provide more survival-specific skills for your swimmer, To run 8-day sets, rather than 10 (many swimmers miss Fridays), To shorten the program and make it more achievable for outdoor pool users
To add a new program specifically designed for adults!
REGISTERING YOUR SWIMMER:
If you know what Red Cross level to register in (check your swimmer's report card) then just use our conversion chart to see what level to enroll in. This can be found at our registration day/evening, online at Assiniboia.net along with all the forms, or swing by the Aquatic Centre and our lifeguards can assist you.

If you do not know the level, have one of our senior lifeguards evaluate your swimmer at a public swim so they are registered in the level that is right for them.
2019 Advanced Aquatics Registration Form

Swimming Lesson Registration Form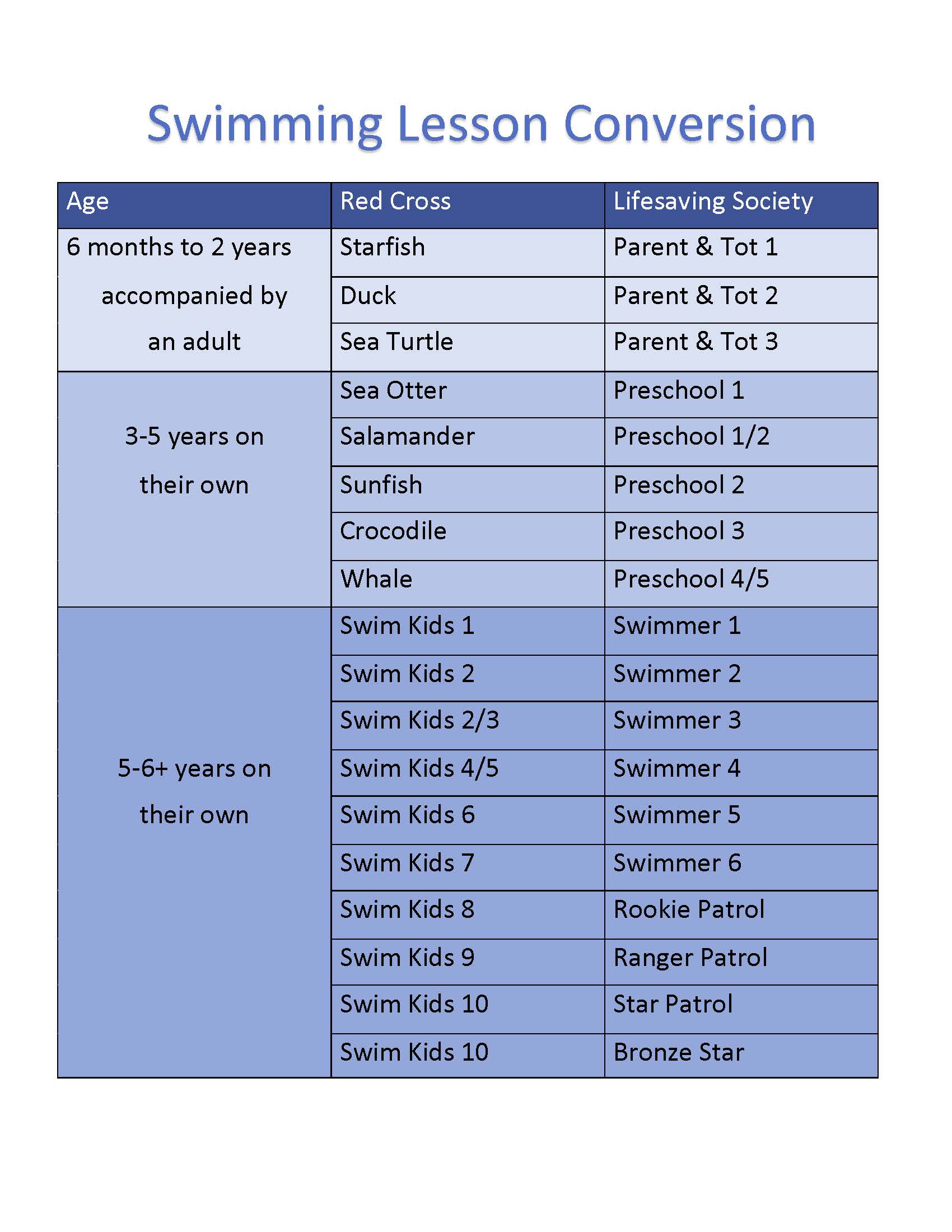 POOL RULES
Parents Required to Accompany:
All children 6 and under must be supervised by an adult (16 years or older) within arm's reach in the pool. Up to three children 6 and under can be supervised by an adult. This rule is our policy during all rentals and public swims to ensure the safety of our patrons.
Rentals:
The rental fee includes use of the main pool and lifeguard supervision. All individuals under the age of 14 must be supervised by an adult 16 years or older.
Refunds:
The Pool does not give cash refunds for cancelled rentals. The renter will be given a letter of credit, which can be applied to lessons, passes or future rentals at the Aquatics Centre. Rentals will commence in all weather conditions with the exception of lightning. Medical notes are required if the renter must cancel due to medical circumstances. Any other extraneous circumstances requiring cancellation require advanced notice of at least 48 hours to receive a pool credit and will be at the discretion of the manager.
ASSINIBOIA AQUARIANS
The Assiniboia Aquarian Swim Club is a registered member with Swim Saskatchewan
The Aquariums are a friendly, competitive summer swim club for anyone capable of swimming 25 meters in the pool. Our professional coaching assists swimmers in the correct strokes, while improving their speed and endurance.

Aquarians Facebook Page