Agriculture
2011 Saskatchewan Crop District Crop Production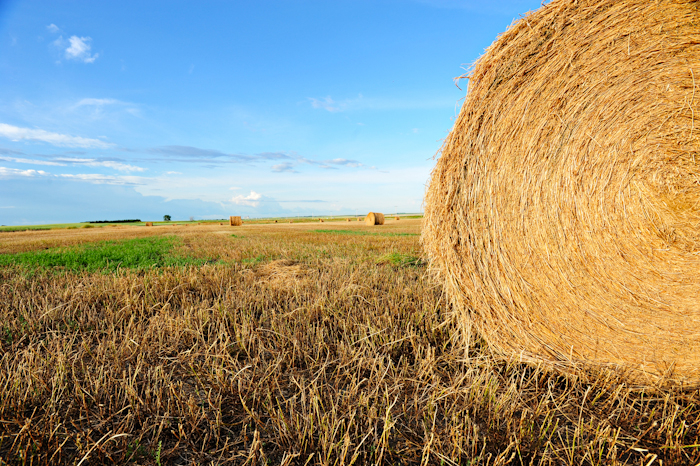 Another week of warm harvest weather has allowed Saskatchewan producers to get most of the crop in the bin. Ninety-eight per cent of the 2011 crop is combined, according to Saskatchewan Agriculture's Weekly Crop Report. The five-year (2006-2010) provincial average for this time of year is 83 per cent combined.

The southeast and southwest have 97 per cent of the crop combined; the east-central, west-central and northeastern regions have 98 per cent combined; and the northwest has 96 per cent combined. Ninety-eight per cent of the durum, spring wheat and barley, 97 per cent of the canola and 78 per of the flax have been combined.

Across the province, topsoil moisture on cropland is rated as two per cent surplus, 50 per cent adequate, 40 per cent short and eight per cent very short. Hay land and pasture topsoil moisture is rated as one per cent surplus, 49 per cent adequate, 40 per cent short and 10 per cent very short.

In general, crop yields are reported to be average to above-average, with the exception of the areas in the south and southeast that received excess moisture in the spring. Crop quality is generally good. Ergot and frost damage have caused downgrading in some areas.

Farmers are busy finishing up harvest, hauling bales, hauling grain, cleaning corrals and controlling weeds.
For additional crop information, please visit the Saskatchewan Agriculture website at www.agriculture.gov.sk.ca
Agricultural Businesses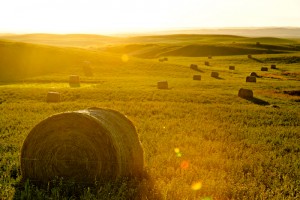 Since Agriculture is the primary industry of the region, the industrial park caters to the Ag industry. Farm implement dealerships, grain storage sales and equipment rentals as well as the auction yards are all located within the industrial park.
Agricultural Dealerships
E. Bourassa & Sons Ltd. (NAPA)
The Ford-New Holland Company has been a progressive company for Assiniboia. They provide full sales and service and high season extended hours and is located on Highway 13 West.
South Country Equipment Ltd.
This is a large John Deere dealership serving the south-central region. They offer full sales and service with extended seasonal hours and a parts department handling all model parts and are located on Highway 2 North.
Young's Equipment Inc.
This is Assiniboia's Case International dealership. They provide full sales and service, including extended seasonal hours for farmer's convenience and are located on Highway 13 West.
Auction
Assiniboia Livestock Auction
Located in the industrial park, this high traffic facility is boasted as one of the largest auction yards in Saskatchewan. Assiniboia Livestock Auction is the first and only livestock auction market in Canada that brings buyers and sellers together in a live audio and video auction. Their slogan: "The High Dollar Market Leading the Way." They are located at the CPR Right of Way.
The Assiniboia Livestock Auction celebrated their 40th Anniversary in 2011. Mr. Roy Rutledge was also inducted into the Hall of Fame for the Livestock Markets Association of Canada, plus the Assiniboia Livestock Auction itself was recognized as the Canadian Angus Association Market of the year!
Elevators
Cargill
This high throughput facility is located in the Hamlet of Congress and can handle a major amount of grain for the area.
SASKCAN PULSE TRADING.
Saskcan Pulse Trading is a major pulse exporter. This plant, located at 300 Fraser Drive, runs 24 hours per day, 7 days per week most of the year.
Phone: (306) 642-5920
Fax: (306) 642-5935
Viterra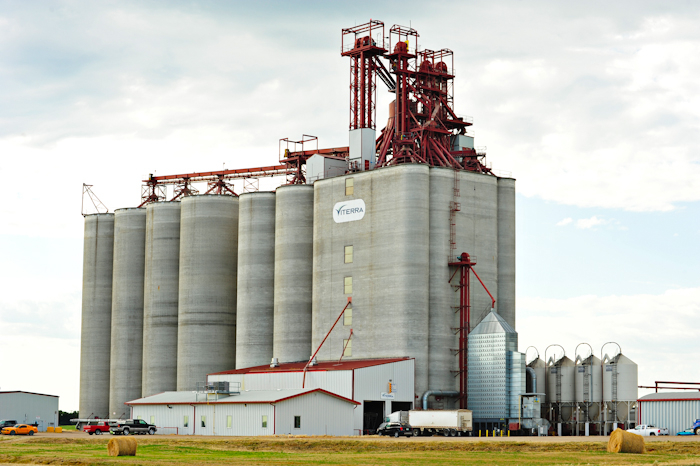 The Viterral high throughput terminal can handle a major amount of grain in the area. It is located on the very west side of Assiniboia's industrial park on Highway 13 West.
Phone: (306) 642-3612 (Grain Terminal) or 1-877-797-7762
Phone: (306) 642-3355 (Farm Services) or 1-877-797-7762
Website: www.viterra.ca
Paterson
Part of the Paterson network that provides access to agricultural expertise in the form of consultation services, crop input services for seed, fertilizer, and other crop applications, including pricing info for producers. It is located East of Highway 2 on the north side of Assiniboia.